The chemical composition

determined in accordance with EN 573-2. Mechanical properties

according to

EN 755-2.
Technical delivery conditions,

tolerances and

limit deviations defined by EN 12020-1, 12020-2, GOST 22233-2001(CIS countries).
All ZERRINGER systems profiles and fastening clips are made of the best aluminum and steel alloys, to have the longest performance in industry. We permanently control the quality of the extrusion and treatments done at our facilities.
Whether if it's necessary to reduce the visual part of the clip, or instead, give some accent to them, or needs to be fix something else to the façade , the ZERRINGER systems has numerous of options for design. If we don't have anything to suit your intention, we will make it for you. The ZERRINGER-Crocodile system provides maximum strength of guide profiles (E050, E-60, E-80) and clip fasteners. Laboratory tests and practice have proven that it's easier to destroy the metal body, then pull the clip fastener out of the guide.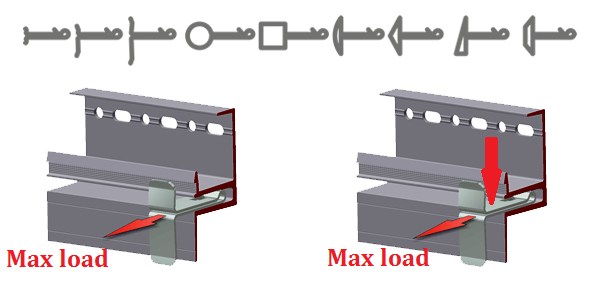 All ZERRINGER profiles and parts are made of environment friendly materials that can be recycled and do not produce any poisonous or hazardous deposits. Every profiles or part has optimized proportions and shapes.
Plastic parts
Related components and elements of ventilated ZERRINGER facade systems – plastic parts.
Bending equipment is used for the manufacture of any metal facade cassettes and panels.
     ♦ Maximum bending depth: 450 mm to 3000 mm wide sheets and unlimited sheets to 1520 mm